Window Treatments 101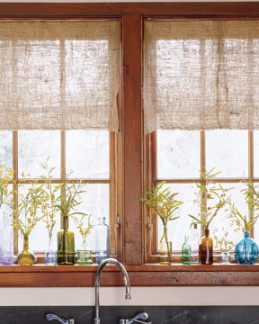 Are the windows at your cabin looking bare, or are you simply for a change? The thing about window treatments is that they can make a big update to a room, without a lot of cost and energy. The only question is, what treatments do you use? There are so many options.
Here are just a few of your window treatment options. There's a great deal of fun to be had with any of these.
Blinds. Among the bonuses of blinds is that they are adjustable to allow the preferred amount of light in, and they offer a clean look that works well with any décor.
Drapes, curtains and valances. These window treatments offer a multitude of options. Draperies can be wrapped over a curtain rod in addition to curtains to create a luxe look, or you can use a valance to hide the curtain rod. You can also use curtains in addition to blinds for a layered look. The options are just about endless.
Fabric shades. Fabric shades, such as Roman shades, are panels of fabric that can be drawn up to allow more light in. They can be made of materials that contribute to energy efficiency in your home, which is an additional bonus. They can range from a clean, simple look to rich prints and ruffles. So shades are really very versatile.
Natural-material shades, such as bamboo. These are a really trendy window treatment option. And the natural materials would work well in a rustic setting. They allow a bit of light to pass through, which is good.
Choosing the treatments that work for your room depends on your needs and the rest of your décor. Something like these lace panels offer a nice woodsy look in delicate lace that allows a lot of light to pass through. In contrast, heavier fabrics will block more light, or shades will create a more subtle effect. Here's a slideshow with a bunch of ideas from CountryLiving.com.
Rest assured that, whatever you choose, your new window treatments will give your room an update and a fresh view on the world.
Leave a Reply