Rustic Looks for Tapestry Wall Décor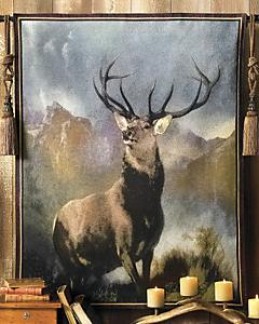 Using tapestries in decor is an elegant and easy way to convey a decorating theme and cover a large, empty space. Tapestries are especially fitting in lodges and cabins. There are many varieties when it comes to choosing a design.
For a nature feel, pictures of deer, elk or bears in their natural habitat are a good choice. These tapestries will greatly compliment any game that's mounted on the wall, or rugs made of animal hides. The browns and greens are also calming colors to decorate with. And, of course, trees offer that natural feel as well.
For designs connected to American history and the southwest, use tapestries with turquoise and geometric patterns, evocative of Native American blankets. Some have this design as just the border around a center image, while others are entirely patterned, offering more versatility in where they are hung.
Pictures of the plains, mountains and farmhouses will evoke an old-fashioned feel and bridge the gap between outdoors and indoors. Having a tapestry of a landscape or building is a unique alternative to having a plain photograph or painting of the same image as it offers more texture and dimension.
Horses and buffalo tapestries are perfect for cowboy-themed decor. Pictures of rodeos, boots and cactus also tie into a rustic, country theme.
Stepping out of the conventional country theme, tapestries exploring hobbies such as golf or pool fit well in a rustic setting as long as they contain the appropriate color scheme.
Leave a Reply