Natural Looks for your Home Decor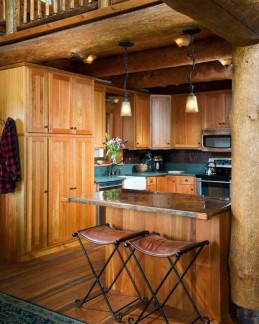 Bring the outdoors in with natural looks for your home décor. Adding outdoor elements will make your home more welcoming and charming. Your house will feel cozy and inviting with the addition of a few simple items. Here are just a few of the lodge-inspired decorative items you can bring in to your home.
Pine Cones
The hottest interior design magazines recommend setting out a plate full of pinecones as a centerpiece during the holidays. They can even be painted with metallic colors or decorated with glitter to add some interest and charm to them. With pinecone metal hardware, you can enjoy the look of pinecones year round. Designed for the bathroom, this set features a towel holder, a robe hook and a toilet tissue holder. However, the towel holder isn't just for the bathroom. You could also place the towel holder in the kitchen for dish towels, or you could add it to the laundry room for added interest and cozy appeal.
Stained Glass Windows
You don't have to spend a small fortune to introduce the beauty of stained glass to your home. Stained glass windows featuring beautiful depictions of nature can be added to any area of your home. Hang long window above the kitchen bar for a beautiful, decorative piece that can be enjoyed from both rooms. Hang one in a window, allowing the light to shine through and create a cascade of beautiful colors in the home. You can also simply hang one on the wall as a beautiful and creative decorative centerpiece.
Antlers
Antlers aren't just for chandeliers and unique furniture. You can easily introduce antlers to your décor with paper towel holders, door knobs, shelves and fan pulls. Choose an antler toilet paper holder and pair it with antler towel racks. Turn antlers into a source of beauty and light with an antler candelabra that will look lovely on a coffee table. You can also use antlers to put the perfect finishing touch on cabinets, doors and dressers.
Furniture
Rustic furniture doesn't have to feature wood construction and antlers. It can also feature thick cushions, welcoming shapes and an air of comfort that will invite you in and entice you to sit down and relax. There are no pretenses with rustic furniture. There is simply natural beauty and amazing comfort.
Whether you want fishing décor or just love bears, rustic accessories can help you create the perfect look for your home or cabin retreat. The style is relaxed, the look can be whimsical and the finished result is absolutely delightful.
Leave a Reply