Mossy Oak Conquers All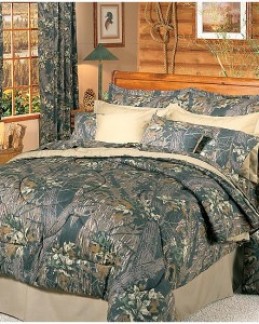 Mossy Oak is spreading like wildfire. The very pattern of camouflage is unique, blending earth colors with designs that mimic nature. Mossy Oak explains on their website, "It's not a passion. It's an obsession." Their slogan may very well be reaching out to not only men, but women now and it's easy to see why.
Before, camouflage was typically for males, ranging from hunting accessories to everyday gear. With growing popularity, the materials are expanding. There are countless items you can buy that are colored with camouflage. Another good thing to come out of this is the set design, but range of colors you can obtain for these items, such as pink or purple camouflage.
The classic earthy tones are great, but would your teenage daughter want her room decorated in it? If not, why not try getting her a trendy pink comforter set? It offers a balance between nature and diva and it looks great. The bedding is not the only product grabbing attention. Mossy Oak is setting a new standard. They're selling all things ranging from truck accessories to women's underwear. I have to admit, the furniture they craft is exquisite and the perfect addition to a room. Trying to make the ultimate man cave? No problem, not when you have camouflage accessories for your bathroom or living room.
Mossy Oak fans are really enjoying how the company is envisioning new steps for a classic trend building into something more. Dodge just announced a Ram Truck endorsed by them, with Mossy Oak print on accessories inside the vehicle. The best part of all is this trend movement will continue to drive forward and evolve. Who knows what other Mossy Oak products will hit the market? Diehard fans will be first in line.
Leave a Reply