How to Hang a Tapestry or Canvas Wall Hanging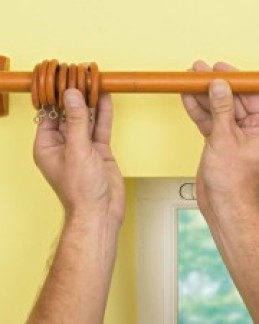 Tapestries can be thick and heavy, which can make them difficult to hang. Before actually hanging your tapestry, make sure you have chosen the proper location. Test it by creating a paper replica, by size, of the tapestry. Tape it in the location you have chosen. Now, stand back and consider the size of the wall to the size of the tapestry. Consider other items, both on the wall and around the hanging location. If it doesn't seem to work, proceed with this process in another location, until the proper place is chosen. The easiest way to hang a tapestry wall hanging is with a rod-pocket. With a few tips, the job will be a snap.
Dowel or Curtain Rod
An inexpensive ½-inch wooden down will work perfectly to hang your tapestry, and it will be invisible once it is hung. Purchase your wooden down from a craft store or hardware store. Pre-measure the width of your tapestry. Purchase or cut the dowel to be an inch shorter than the measured tapestry width. If you choose to use a curtain rod or hanging rod instead of the dowel, make sure it is the type that will fit flat against the wall. If it has decorative ends, you may want it to be pulled out past the width of the tapestry, so the ends will show at each end.
Rod-Pocket
For the rod-pocket method of hanging a tapestry, you will create a fabric tube-pocket at the top of the tapestry. To do this, cut a 3-inch wide piece of fabric and as long as the width of the tapestry, minus 1 inch. Muslin or cotton fabric works well for this purpose. Fold and press ½ inch along both long sides of the strip of fabric. Use straight pins to attach the strip of fabric centered to the top of the tapestry, leaving about a half inch of the tapestry clear at the top. Hand sew the fabric tube at the top and bottom, with the folds facing the back of the tapestry. Insert the ½-inch wooden dowel, or curtain rod, through the fabric tube. Use rod hoods, cup hooks or thin nails to attach the dowel to the wall.
For a more detailed description, here's a how-to for installing a curtain rod, which also applies to rods for hanging tapestries. Good luck! With just a little learning curve, you can have a nice, evenly-hung tapestry gracing your wall.
Leave a Reply