Energy Efficiency for Log Homes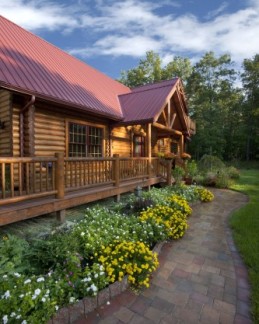 Log homes and cabins are naturally energy-efficient, since the log construction acts as a natural insulator.  But that hasn't stopped log home builders from working on the cutting edge of green technologies. After all, log home enthusiasts are known nature lovers—why wouldn't they want to build with an eye toward sustainability and conservation?
Builders are helping customers fulfill their desire to be green with a variety of green technologies, among them:
Geothermal systems. Geothermal heat pumps use the temperature of the earth rather than the outside air to pump heat and warm a house. The price tag may stop some home owners from installing them—they can run about 2.5 times higher than regular heating and air systems—but they can pay themselves off in as little as five years. Another bonus: there's currently a tax credit that will reward you for installing one.
Photovoltaics. The term "photovoltaic" indicates light plus electricity—or harnessing the energy that comes from the sun into a usable form. Photovoltaic systems convert energy from direct-current voltage into the alternating current that powers our houses and appliances. Photovoltaic energy offers the possibility of living off-grid—having no ties to a large electrical source, which means greater independence and the freedom to live in a more remote area.
Wind energy. Wind turbines aren't as cost-efficient as solar systems, but wind energy can readily be used to supplement an existing energy system. Of course, you do need to live in a location where there's enough wind to make the turbine worth it. Experts estimate an average of 10 mph or better.
If you're looking to build a log home and want to incorporate these alternative energy sources, you should have no trouble finding a builder who will work with you. And of course there are ways to maximize an existing system. But that's a topic for another day. For now, let's all take a minute to breathe some fresh air in the outdoors we love.
Leave a Reply