Decorating with Wrought Iron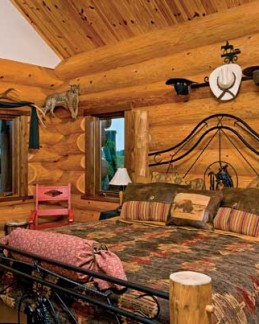 There's a lot you can do with wrought iron in a rustic setting. It gives a traditional look, but isn't limited to just a few styles. Scrolls seem to be the most common design, but you can certainly find wrought iron items in other patterns as well. A rust finish can give a wrought iron décor item a rustic look, and wrought iron looks great in western settings as well. It communicates a certain frontier elegance.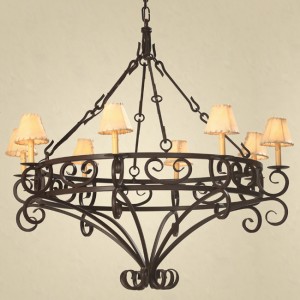 Here are a few ways you might incorporate wrought iron into your rustic décor:
Chandeliers and lighting. With rust finishes, classic iron, or a gunmetal kind of finish, wrought iron makes for great lighting pieces. This chandelier with rawhide shades has a great western look.
Curtain rods and tiebacks. Wrought iron can be cast in scrolls or nature themes to make a gorgeous accessory for your window treatments.
Metal wall art. Wrought iron can be used to create a beautifully simple wall décor item, or you could even upcycle a vintage wrought iron gate or grate to use on your wall. Especially if it looks aged and distressed, it will work wonderfully with your rustic décor.
Furniture. Wrought iron makes for elegantly simple accent furniture. Choose a wrought iron barstool or small table for just the right furniture that doesn't take up a lot of space in the room visually.
Bath and kitchen hardware. Wrought iron branches or pinecones on bath hardware work perfectly in a rustic bathroom. It adds a look that's distinctly natural, but with a lot of grace and style.
Simple scrolls add a classic look to your rustic décor or rugged western room, and nature motifs just add to that natural elegance. In any form, wrought iron could be just what your rustic room needs.
Leave a Reply