Decorating with Adirondack Style
Adirondack architecture and design is both recognizable and well loved. The style combines elements of Swiss architecture with the natural materials local to the Adirondacks for a unique look. Think arches and intricate stick and twig designs, with natural bark or peeled twigs. An Adirondack look is reminiscent of camps and the Adirondack Mountains, and warm and inviting as well as perfectly rustic. For that reason, it makes great cabin décor and design.
A lot of log homes seem to have Adirondack-inspired layouts and structures. And the interiors can be full of the design as well. Even if you can't make over the outside of your home or cabin, you can splash the Great Camp look associated with the Adirondacks all over the interior.
Furniture with skip-peel twig accents in geometric designs, like this occasional table, perfectly captures the Adirondack look. Smaller accessories and décor items can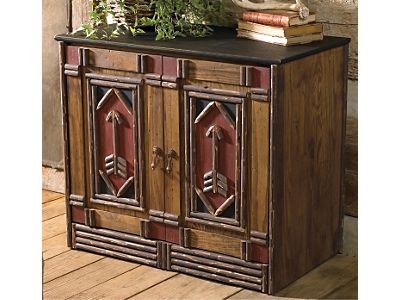 complete the effect. Look for anything camp-themed, like vintage signs and fly reel décor items. A mounted fish will do a lot to add a sporting outdoor look to your cabin, or décor incorporating vintage skis and snowshoes. Really, anything that might belong in a New England lodge will give your cabin an Adirondack makeover.
The vintage camp look will make your cabin both more sporty and more inviting, with a special note of authenticity.
Leave a Reply