Creating Cabin Storage Space
A cabin or log home looks great with lots of open spaces. Clutter is the enemy of showing off those gorgeous log walls. But in any home, organization and storage space can be a problem. Where do you put everything, especially your outdoor gear and equipment?
Here are a few ideas for maximizing your storage space from TLC:
You can create new storage areas in various areas of your home—under enclosed staircases, for example. This is a great place to store holiday decorations, craft supplies, or anything you don't need easy access to all the time.
Installing shelving in sneaky places on walls will prevent using up precious floor space and can add a decorative touch as well. This pinecone wall cabinet adds a touch of storage without taking up floor space. Plus, it looks beautiful.
Slim storage boxes can be slid under beds to make use of that space.
A room screen or room divider placed in a corner provides a handy triangular spot to hide loose items and equipment.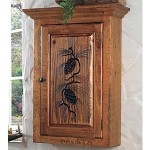 Of course, in addition to revamping your storage space, you can always do an organizational overhaul to keep your stuff tidy. Okay, that's much less fun than knocking out a wall to create recessed shelving. Here are a few organizational tips from Real Simple to make it easier.
Your time at the cabin will be much more enjoyable with less clutter. Good luck!
Leave a Reply