Cooking at the Cabin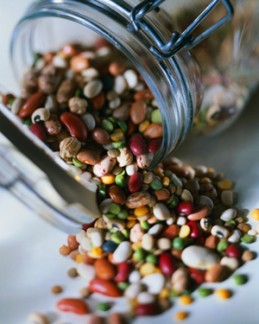 If you're not at your cabin or log home year-round, you probably don't want to keep a lot of food there, particularly not anything perishable. Fortunately, there are some healthy meals you can make using only non-perishable and frozen foods. Here are some of the items you can leave at the cabin indefinitely and use to make healthy, flavorful meals when you arrive at the cabin.
Dry goods, such as pasta and rice. Keep them in an airtight container, and you can keep these on hand as long as you need to. Also consider branching out and trying new whole grains such as barley and quinoa.
Condiments and peanut butter. If your cabin has a fridge, items like ketchup and mustard are virtually non-perishable. So you can stock up and leave them there without worrying that they'll spoil and make your fridge smell terrible. And the virtues of peanut butter cannot be recounted in this small space. You can use peanut butter in sweet recipes, on fruit or crackers as a protein-packed snack, or in savory dishes such as curries. Keep a big jar on hand, and it will serve you well.
Dried or canned beans and lentils. Add these to hot dishes and salads for a punch of protein and fiber. Beans are a real asset in any diet, and you can stock your pantry with the canned variety and have them on hand.
Canned vegetables and fruits get kind of a bad nutritional rap, but while it's true that produce eaten just after picking is the healthiest option, canned veggies and fruits do preserve some nutrients, and they're certainly better than no produce at all. Rinse veggies a little in cold water to remove some of the extra salt, and look for fruits packed in natural juice rather than syrup, and you're good to go.
Canned chicken, vegetable or beef stock for cooking. If you don't use these up during your stay at the cabin, you can freeze them in ice cube trays and use them as needed.
Canned tuna. Tuna noodle casserole, need we say more?
So even if you get to the cabin without having a chance to pick up a few perishable groceries, you can still whip together a hot meal with these pantry staples. Enjoy!
Leave a Reply