Creating a Wild West Look in Your Home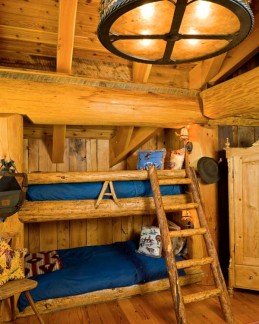 Whether you are someone who has a yearning for the mesas and mountains of the Old West, or you simply love cowboy movies, you will find that a little effort can bring this type of look into the home that you live in. Rustic cabins already have a rugged feel that is perfect for Old West décor, and whether you are interested in Spanish mission styles, country styles or even vintage looks, there are plenty of options open for you.
First, think about the scope of your project. Are you someone who is invested in making sure that you create a very integrated look, or would you simply rather a few touches around that emphasize a theme? This is something that can make a big difference regarding your purchases. For example, if you would like a vintage look but you don't want to put too much money into it, a cow skull and a few buffalo skins tacked to the wall do very well. On the other hand, if you love the idea of a country look and you want to go deeply into decorating with this theme, replace your curtains with calico fabric, and choose wood furniture in warm, worn hues.
When you are invested in the Spanish aspect of the Old West, you can choose either to add a few decorative touches, or you can take your time and start revamping your cabin from the ground up. Large windows with plain, fabric curtains are perfect for the Spanish mission style, as are terracotta tiles. Similarly, consider furniture that is upholstered in heavy black leather and which has sturdy brass rivets driven through it.
Take a moment to learn more about the type of style that you want, and to figure out what kind of accessories work well for the style in question. For example, for Old West by way of the Spanish mission, consider heavy ironwork, whether it is in the form of intricate window grating or in heavy crosses that can be mounted on the wall. On the other hand, if you like the idea of a country look in your kitchen, throw a decorative butter churn into the corner to create a look of frontier domesticity.
One of the big advantages of the Old West theme is that the items that you choose simply have to complement each other; they do not have to match. Mismatched rag rugs, both placed on the floor and hung up on the wall, add a great deal of texture and color the room, as do woven wall hangings and old movie posters. Choose items that invite touching, from sheepskin rugs to leather lampshades. For elements that add to all the senses, leave a few leather-scented candles burning when you have company come over.
If you have always loved the Old West, think about bringing some of the flora inside. Take a look around for the spiky, spiny cactus that gave the Old West some of its most attractive vistas and bring them inside. Place them in painted terracotta pots and let them thrive in the sunny corners of your home. These succulents do very well even when neglected!
Take a moment to consider how the Old West can change the way that your home looks; this is a perfect choice for any cabin owner.
Leave a Reply