Decorating with Antlers
Antlers in home décor offer a style that's all their own. Trophy antlers of course fit right in with the décor in a rugged hunting lodge. But antlers can also be used in more creative ways for an interesting, subtler effect. That might be why they're a perennial decorating trend.
You can find antlers on every type of home décor, whether they're genuine, realistic faux antlers or a more artistic representation in sculpted metal. Antlers often come in the
traditional wall mount form, of course, but there are also
antler candelabras
and lighting elements, and antlers often adorn furniture items as well. So you have plenty of options if you want to add antlers to your décor. Here are a few ideas for incorporating them into your personal style.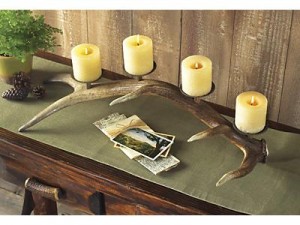 Pair them with:
Rugged leather and western décor for a ranch look. Sturdy, masculine furniture and plenty of hair on hide on display, joined by wall-mount antlers, will give your home a distinctly rugged feel.
Outdoor themes, such as pinecones and wildlife, for a mountain effect. Deer and elk antlers in particular work really well in a lodge setting—they perfectly emphasize that camp look. Antlers can add an extra note of authenticity to a room filled with black bears and moose.
Vintage items for a country-rustic style with a fun twist. Antlers are cropping up in vintage country-themed rooms to add interest and a rustic note. An antler wall mount on a French blue wall, with distressed-finish tables and vintage signs, is sure to make your kitchen welcoming.
Spare décor for a wistful, natural effect. Antlers are part of nature, and along with natural twig designs, they can add an austere beauty to a room for a look that's uniquely rustic.
Antlers are a little thing that can make a big rustic statement in any room. They're definitely worth checking out as you seek to create a unique rustic space.
Leave a Reply